Keyframe-Entertainment would like to share 3 events coming up, alongside interviews with the festival producers of Mayan Heart Festival and Cosmic Convergence, kicking off with its San Francisco pre-party. Enjoy this in-depth article, and mix by Desert Dwellers, who will also be playing at both festivals.
November 30 – Cosmic Heart: The SF pre-party of Mayan Heart Festival & Cosmic Convergence
Hosted by Keyframe, the event will take place at the Onedome Mixed Reality Art Experience, a space where Augmented Reality, projection mapping, soundscapes, food and drink, and even the physical space itself all work together to immerse you in a fantastical other world known as "The Unreal Garden."
There will also be a cacao ceremony honoring both festivals and a musical journey spanning multiple genres & cultures. Featuring artists Kaminanda, Khromata, El Papachango, Javier Portilla, and Mixwell.
Julian Reyes, host of the pre-party event, says: "It is our honor to host the San Francisco pre party to these 2 very special fests happening in Guatemala. I love the energy that they're bringing forth, the musical lineup of both festivals, and their efforts to uplift the communities in Guatemala and bring visibility and inspiration to such a beautiful place."
For more details, go to: https://www.facebook.com/events/322254545024533
For tickets to the pre-party, go to: https://onedome.global/cosmic-heart/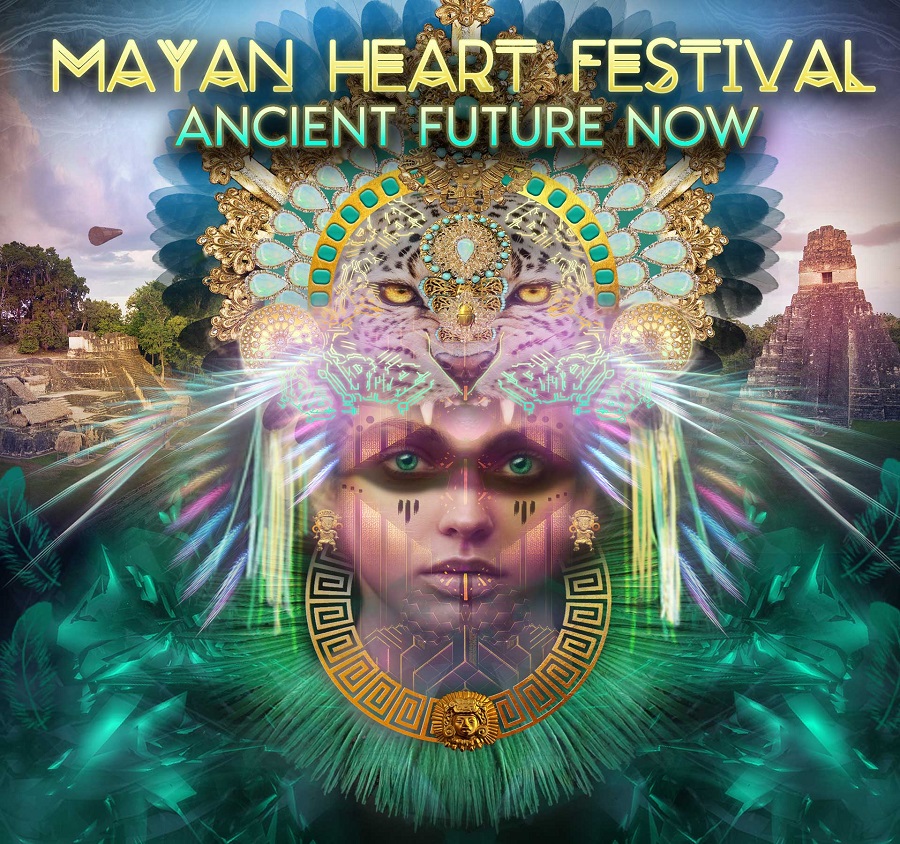 *DEC 20-23, 2018 – MAYAN HEART FESTIVAL @ TIKAL, LAKE PETEN, Guatemala –
Discount code SF2018 offers 15% off on entry tickets.
THE CYCLE BEGINS – SOLSTICE – FULL MOON –
Completing the Cycle started 5,000 years ago in Tikal. This will open the new cycle of prosperity, liberation and galactic freedom for all the peoples of the Earth… BE PART OF HISTORY!
A 4 day & night Celebration where all humans come together once again united as ONE. Our mission is to create opportunities for growth, to expand the heart and to immerse in a life changing experience for each individual at one of the most inspiring locations available on the planet, Tikal, one of the Maya most sacred and ancient sites.
*INTERVIEW with Amaya, Founder of Mayan Heart Festival: 
What was the inspiration for your festival?
AMAYA: Mayan Heart Festival is a "Mission" which I, Amaya chose to accept.  I was on a trip to Machu Pichu when I was called to do a gig in Guatemala and had to change my plans midway to go to Guatemala.  I have been working and doing ceremony in Tikal since 2003. I called Danilo "Black Jaguar" the guide I've been working with since the very first times I went to Tikal and it just so happened he was leading an expedition into the deep jungle the day after my gig in Guatemala.  I thought this was a sign, it was so perfectly aligned and we decided to go on that expedition. (This is the same expedition we are offering on our web site before the festival and begins December 12th by the way). Once we were deep in the jungle and at the La Danta pyramid complex, he turned to me and said… "Tikal would like for you to produce an event for the winter Solstice" I was very moved by this and amazed.  I waited for a week after I got back to make the final decision knowing if I did this I had to be "IN" all the way. I chose to accept and that is when it all began. It was around the Equinox of March 21st of this year when I accepted. It was at that moment of acceptance that I was "downloaded" with the intent… We are to deliver a Declaration of Liberation for planer Earth into the Sacred Maya Fire Ceremony on December 21st, in as many languages as possible with as many people representing each corner of the planet as possible.  Additional to this we will be coordinating a worldwide unified synchronized meditation with UNIFY.ORG on Dec 21st to magnify what we are doing in Tikal worldwide.
What makes Guatemala such a great place for these gatherings?
AMAYA: Guatemala right now is like Costa Rica 50 years ago. Everyone knows how expensive Costa Rica has gotten, well Guatemala is very very "cheap" in comparison and the different environments that you find are so different and beautiful. Additionally there is no place on Earth like Tikal; it is the most pristine and beautiful and well maintained of the Maya sites with a permanent team working year-round restoring with the original formula the structures. We have a freshwater lake and a Sulfur lake right next to each other; sulfur lakes are extremely rare and incredibly healing.  The jungle is vast and protected. The MAYA are alive and well and the most heart centered people on Earth, they are just beautiful.
Tell us more about your music line-up.
AMAYA: We chose a bit of everything. It was really important to have a very solid headliner and Deya Dova fit the bill for us.  It does not matter that she is not a stadium-level artist right now.  We are following a very specific guidance and "The Return of the Bird Tribes" IS the song for this initiation festival; this is very much because we are precisely calling in the bird tribes, the rainbow warriors, a very specific group of people who will feel this call very strongly! "you know who you are."
Photo: screenshot of Deya Dova video
We are including a lot of indigenous acoustic instrumentalist and it was also very important to include a lot of our family. Irma Lopez is one of the most powerful woman I know, she is from Costa Rica and it is an honor to have her with us. Johnny House-In is a long time partner of mine and one of the most famous Djs from Colombia who's life totally changed during a trip to Tikal in 2015 with me.  Carlos Belatti is also one of my long time producer and Dj friends, he is one of the most well known Djs in Mexico. Movimiento Jade is a local group of young people who are learning ancient dances and work with the marimba. Hart Sawyer and Ruby Chase are some of the most talented up and coming artists I know in L.A. Gaudi we love because he is a musical alchemyst, J Brave, Imagica Om, Kaminanda, Samuel J round up the line up in a beautiful way. Kirtaniyas will headline our Sunday divine festivities and other musical guests still to be announced. I also want to point out that one of the biggest assets about Mayan Heart Festival is that we are having a major learning center to learn the secrets… or better, the truths of the Maya… their COSMOVISION which I am learning is so much different from anything we have ever heard or been taught.  Totally different history, it will really surprise people.
We have featured Desert Dwellers many times on Reality Sandwich, please share with us what inspired you to book them.
AMAYA: Desert Dwellers was a very guided booking for me. I have of course been a fan but it was more the way it happened and their connection to Guatemala which really guided the booking to happen. I love that we are hosting them in various stages during the celebrations following the Maya Fire Ceremony.
How did the pre-parties in the US come about; can we expect more in 2019?
AMAYA: This I truly want to give a lot of the credit to my core team, Crystal Rose Mantecon, Brielle Bataille and also J Brave who made the initial connection for the event in Los Angeles and San Francisco. Our new team member Brielle Bataille who came in a blazing fireball confirming our Denver event within 48 hours of getting in the team. We just confirmed a December 15th pre-party at Meow Wolf in Santa Fe, New Mexico; all from the energy intention because there is a genuine magnetic force at work here which amazes me everyday now!! SO GRATEFUL! <3.  As for 2019… WOW!! all this stuff was created from nothing since March of THIS YEAR!! I can already tell 2019 will be an even better year with more and more events with a deep heart-centered intention, Cacao Ceremonies going mainstream, Maya Cosmovision workshops all over the world and why not… we'll take it to the whole galaxy!
Feel free to share and offer shoutouts to people involved.
AMAYA: SO MUCH LOVE TO our newest member Annalisa Balfour who departed this Earth on November 5th and is assisting us right now from the other plain, Crystal Rose for whom I am so grateful!! Thank you!! It is not easy starting with 0 budget and having someone believe and know the mission to give what she has. Her support to me has made the difference into creating that spark which is what is becoming a great fire! Brielle THANK YOU also for hearing the call of your heart, we are doing it!! To Anna Bliss who was there in the beginning and was crucial to getting the word out at the very beginning, oh so many people! My tribe all over the world for knowing what to do and supporting it from day one. To my father, my greatest inspiration who never gave me any thoughts to limit myself!! To my brother for the support, my best friend Eric in Chicago. To you! To me!
Future plans?
AMAYA: Yes!! We are already planning for Equinox… there are two of those and two Solstices so… stay tuned, and I like to say we are an open source company… let's collaborate, let's unify. I am in deep gratitude for everything that is happening already. It is hard to keep up but we are committed to taking the festival experience to the next level!
*DEC 29, 2018 – JAN 01, 2019 – COSMIC CONVERGENCE 2018 @ Santiago Atitlán, Guatemala 
DANCE / MEDICINAL PLANTS / YOGA / MEDITATION / SACRED MEDICINE – Cosmic Convergence is a portal of entry to step into an emerging contemporary planetary tribal culture, and a platform for the expression of new and ancient ways of being. Theme of 2018 – 2019: "Ancestral Awakening"
*INTERVIEW with Lizzie Cohn-Martin, Artist Communications & Relations Manager / Bookings / Hospitality Coordination at Cosmic Convergence:
What was the inspiration for your festival?
LIZZIE: Cosmic Convergence started as a small gathering on Lake Atitlan curated by three friends — Rodrigo Rangel, David Casey, and Presi Elias Verdera. It's foundational mission was to bring together family and friends to celebrate the vibration of life and vibrancy that exists on Lake Atitlan, Guatemala. Lake Atitlan–a volcanic crater lake surrounded by volcanoes on all sides–is like no other lake in this world, offering an energy and life force that unites, heals, and inspires. Ultimately, the festival started as a small gathering intended to celebrate Mayan Tz'utujil life and the music and art that was being created within and brought to this area. At its core is the belief that dance, music, and connection are powerful tools that can be used to heal, empower and strengthen us together to do so much more in this world. We come back to the music as a means of coming back to ourselves — to our pure essence. The music–the beat, the motion, the dance–enables us to come back to the core, to recognize our own magic, and to share this outwards wherever we–the ever growing!–Cosmic family goes.
Since its birth, Cosmic Convergence has grown substantially in both its intention, audience, and artistic, musical, and social offerings. It has become a fully produced annual gathering incorporating art, music, education for conscious living, and Mayan culture & traditions. It is a convergence of past, present, and future, envisioning the new paradigm of a technological-tribal society that is becoming more tangible each day. The objective is to expose the attendees to ancestral and post-industrial ways of living in order to provoke a shift in consciousness to rethink what lifestyles are possible today. The gathering forms part of an ongoing international tribal revival. We strive to make sure that the event is 100% non-profit and all proceeds go towards supporting social projects on Lake Atitlan, where we work with indigenous communities to grow a greener future.
*Watch: Live with NuMundo Chief Visionary Officer and Cosmic Convergence Festival co-founder David Casey to talk about transformational festivals and an especially epic gathering coming up in Guatemala:
https://www.facebook.com/numundonow/videos/451511528708393/
What makes Guatemala such a great place for these gatherings?
LIZZIE: Wow, SO many reasons! Mayan culture is one of the most socially rich and heart and mind-opening cultures in this world. The history and the heart of Guatemala and of Lake Atitlan offers so much to learn and grow from. Every year Cosmic Convergence grows and changes, but at our core roots is a deep respect and appreciation of the strength, knowledge, and love of the people in this country. The energy here is *full on* and it permeates into and through the music, art, architecture, beadwork, tapestries, food…. everything that is generated in this country. There is a purity, a rawness, and a realness here in Guatemala that cannot be found in other parts of the world. On behalf of the Cosmic Convergence team, I can say we are honored to be able to offer what we offer here, on Lake Atitlan. It is a gift to be able to offer our gathering here–one that we are honored to hold. Our gathering wouldn't be what it is without the support of the communities that we work with within the country and specifically on the lake. Without these communities, well, Cosmic just wouldn't be.

Photo: Pink Plankton, Jessica Devnani

Photo: Amir Weiss
Tell us more about your music line-up.
LIZZIE: The line-up for Cosmic Convergence 2018 is straight fire. There is no other way to phrase it. We aim to offer a diversity of different musical experiences, spanning highly varied genres, and with musical representation from all over the world. As should be expected, many of our musicians are local from different areas around the lake, from Antigua, Guatemala City and other spaces in Guatemala. Moving outwards from there we pull in talent from Central and South America, with heavy hitters from Costa Rica and Mexico. We always have musicians coming in from the US, Canada, Israel, Europe, Japan, Australia, India, different parts of Asia, and beyond. It continually amazes me who is called to play at this gathering…. again — gifts! Such gifts! Hugely honored. Thank you!! Gracias!!
This year we have the mega honor of hosting some of my all-time favorites — Chancha Via Circuito and Kaleema, Desert Dwellers (Amani Friend and Trevor Moontribe), Psysex (Udi Sternberg), Symbolico, David Starfire, Jaguar Tree, Animalien, Tor.Ma in Dub, Hanuman Project, Javier Portilla, the Kirtaniyas, Brian Hartman, Humo Maya, Akasha Vibes, Di Laif, Movimiento Jade, and Yemanjo to name a few. This is just a sampling of the music that will be played on our four stages — live, global bass, psytrance, and chillout. The support and love of all of our musicians and artists have been massive over the years and the line-up each year truly is a creative fusion between a number of us working on bookings. Every year is different — a new flavor of dance floor bliss. Our aim is to showcase the music that comes to us and to help support our musicians in having a profound experience with us and pushing their music to new levels. One of the greatest gifts that Cosmic has received over the years is being able to bear witness to music development on the part of younger or emergent musicians. This is a serious treat — to be able to watch and hear the music evolve, change, and develop over time.
Share a memory you have of Desert Dwellers. What inspired you to book them?
LIZZIE: Amani and Treavor are pretty amazing. They have been a part of our family for some time now, originally playing at Cosmic in 2013. That was a sweet and beautiful year when the event was still being held in Panajachel. Now we are in the Bay of Santiago (right outside of Santiago) where we have more space to build and play and dance. One of my most memorable experiences of Desert Dwellers was at Symbiosis 2012 at Pyramid Lake, where the level of pure love energy that I felt running throughout my body while dancing to their set completely redefined for me what music can actually offer and create within one's being if we support it to. Music is a powerful tool! Amani and Treavor fuse their talents together in a way that pulls a dancer through a genuinely transformative experience — if that dancer allows their being to go there, of course. We booked them for many reasons but ultimately because we know and believe that when they are playing music (as Desert Dwellers, Liquid Bloom, and Treavor Moontribe) that there is pure love pouring from their hearts on to the dance floor. Their music touches us and activates joy and super pure, powerful healing to flow into and through our body-heart-mind-spirits and out into the collective global world. If you allow your being to go there, you can close your eyes and travel with these guys to worlds that you may not know exist. Allow yourself to be transformed!! It's worth it – I promise!
How did the pre-parties in the US come about? Can we expect more in 2019?
LIZZIE: The pre-parties in the US evolved out of a desire to spread the knowledge of this offering and that of Mayan Heart. We are working on developing a series of smaller events that will be happening globally in 2019, but wanted to first start with San Francisco, as a number of our core production staff and extended family live here or are from the Bay Area.
Our team wanted to offer an event that showcased all of the different types of music that we offer in Guatemala, and this pre-party does a great job of doing that! We also wanted to offer something that highlighted cacao and Mayan culture to the best of our ability even while being outside of Guatemala.  
Thank you KEYFRAME and Mayan Heart! Amazing collaboration!
Feel free to share and offer shoutouts to people involved.
LIZZIE: Massive gratitude to GUATEMALA and to LAKE ATITLAN and to our communities that continue to support us there every year. Gratitude for our elders and prayer holders who support us in growing our prayer every year. Gratitude to the whole Cosmic Convergence Production Team who are RADICALLY CRUSHING IT right now. Epic shoutouts to everyone involved currently and to our huge family that continues to grow — Elena Chiquival, Felipe Esquina, Digo Rangel, David Casey, Presi Verdera, Selva Bhairavi, Ric Victores, Meli Aguilar, Toby Israel, Inbar Vnk, Isaac Fairbank, Diana Azul, Ivan Sawyer Kuum, Marissa Weitzman, Adriana Salguero, Matt Carey, Pedro Rodríguez, Niss Bach, Jenn Azure, and Therese Lowton to name a few — I know I am missing a ton of people! Gratitude to all of the magic makers, sun children, artists, musicians, dreamers, believers, and lovers who have blessed us with their gifts over the years. You are magic! Gracias por todo!
Future plans?
LIZZIE: Heal the world!!!!!! Support each other! Build bridges! We can do so much more together!
Cosmic Convergence has many future plans but in this immediate moment some of our goals are to radically strengthen our social outreach initiatives, community building projects, natural building projects, and our post-event journeys out into the magical jungles, forests, ancient ruins, and waterfalls of Guatemala. We have smaller sister events and retreats that happen each year and those are very important to us to continue to build and develop. These smaller events have been created as means within which to engage more deeply in a smaller group setting on specific projects or with specific intentions in mind. Some of these include art retreats, natural building seminars where participants can actively support in utilizing festival materials to help build homes for different families around the lake, cacao retreats, and yoga / healing arts experiences. The post-event journeys that we offer include "deep dives" into some of the most luscious and beautiful parts of Guatemala that are historically and culturally very powerful. These focus a lot on better understanding Mayan Cosmovision and the history of Guatemala and the Maya.
Word on the street is that there is development in the works of a very special currency that Cosmic will be using in the future as well 😉 Our projects and pursuits are pretty endless and we are always open to receive ideas of different projects or communities to tap into and collaborate with. Please get in touch!